The Functional Requirements of an Effective Elections Training App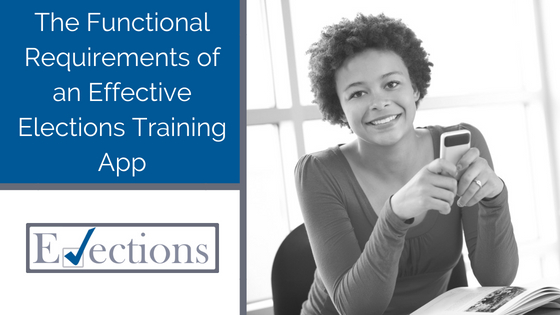 There are plenty of mobile training apps out there that are appealing to look at and well-designed. But for election workers, a successful app needs to be functional. It has to streamline the elections training process in a way that justifies the investment.
Nothing will determine the value of an elections app more than its ability to prepare workers for the commotion and whirlwind of demands that come on election day.
The more poll workers utilize the app, engage with its content, and benefit from the e-learning platform, the more confident organizations will feel about continuing to use their mobile app.
That's why, at ARC Business Solutions, we developed our Elections app with performance as our top priority, taking the needs and pain points of our target market and using them as motivation to find innovative solutions.
We understand that an ideal virtual learning experience begins with an e-learning app that has the functionality required to improve education outcomes and truly make a difference for election workers who want to excel in their roles.
So, what are the functional requirements for an effective elections training app? And how do we incorporate them into our product?
We've compiled our top functionality stipulations below:
TRAINING BY ROLE
In order for elections to run smoothly, each employee needs to feel competent and prepared in their respective role. That's why tailoring the learning experience for each group of employees is essential.
During an election, there are several types of workers that are required, from poll clerks, to registration officers, to information officers, and so on. And it goes without saying that each role is crucial to the overall success of election day operations.
That's why we built the ability to offer training based on role into our Elections app. With our "Manage Roles" feature, election organizers can upload modules and lessons to their app that are unique to specific employee positions. Each employee group will have their own learning pathway.
Additionally, organizers are able to tailor the learning objectives for each role, ensuring that employees are receiving the specialized training they require.
REAL-TIME UPDATES
Nothing is worse for employee engagement than having to wait to know how you've scored on a quiz or not being able to receive immediate feedback on your performance.
Thankfully, this common issue can be avoided with the help of an e-learning mobile app.
Our innovative Elections software gives organizations the ability to instantly communicate with their workers, and also provides them with immediate feedback about their progress so they can focus on the areas they are struggling with.
We want both organizations and workers to have the information they need to adjust their approach and maximize their results. That's why we incorporate timely communication features into our software solutions.
With our Elections app, both employers and employees can access user analytics and progress information, allowing all parties involved to gain a clear understanding of what is working, and what isn't.
Say goodbye to guesswork and hello to concrete, transparent data!
SIMULATION-BASED LEARNING
When it comes to information retention, few approaches are more effective than hands-on experience.
In fact, hands-on participation can lead to as much as a 75 percent retention rate. This is a fantastic percentage, especially when you consider that learners retain only 5 percent of material presented via a lecture.
For this reason, incorporating simulations into your e-learning platform is always beneficial.
At ARC Business Solutions, we define teaching goals when developing simulations for our clients. In our Elections app, specifically, we incorporate real-life election scenarios that learners must navigate through, ensuring that each simulation has 3-6 learning objectives that poll station workers must retain.
We develop our simulations to be dynamic, encouraging interaction and participation from trainees. The more of these immersive, real-life educational situations they engage in, the more likely it is that your election workers will be confident and capable in their roles.
By implementing these core functional requirements, the elections training process becomes increasingly impactful.
To be more precise, 75 percent of organizations that have implemented mobile learning strategies have witnessed business growth and more than half reported improved business outcomes after implementing mobile learning strategies.
By focusing on functionality and making practical, hands-on training a priority, ARC Business Solutions aims to build upon these statistics, furthering the lasting positive impact e-learning can have for elections workers and employees of all types.
ARE YOU AN ELECTION ORGANIZER WHO COULD BENEFIT FROM A CONVENIENT, INNOVATIVE MOBILE APP? CONTACT US TODAY.
One of our dedicated representatives would be happy to discuss how our mobile e-learning solutions can improve your training process!